Van Servicing in Poole, Portsmouth & Southampton
All-in just £37.00 per month with Breeze Van Centres!
We have taken away the need to plan ahead for the main future servicing and repair costs, by creating one simple care package that you can spread across 24 monthly payments. All-in from Volkswagen Commercial Vehicles provides great value and savings overall, compared to pay as you go pricing. All-in has been designed specifically for vehicles aged three to six years, with an engine of 2.0L or less and under 100,000 miles at the point of activation.
All-in price
Full customer cost: £888.00 including VAT

Monthly cost to customer: £37.00 including VAT
Over 24 months you will receive:
2 services (including one interim service and one full service)

2 MOTs

2 years Warranty

2 years' Roadside Assistance
To take advantage of the All-In package contact us on the numbers below or email servicecc@breeze.co.uk to set up your plan!
Saving based on differential between cost of All-in plan with national pay as you go RRP pricing for servicing, MOT and Roadside Assistance. Complimentary Warranty value is based on the average 2 year cost of Extended Warranty policies (with All Component Cover, unlimited mileage, and £0 excess) sold Jan to Sep 2022 for [Brand] vehicles aged 3 to 6 years, with a 2.0L engine or less, and that have not been out of warranty for more than 30 days. Actual saving will be dependent on your vehicle.
Service Plans Starting from as little as £16.88 per Month1
Get ready for winter with our service plan which is available for vehicles up to fifteen years old. Our service plans help to give you that peace of mind that for the next 2 years your vehicle is ready to tackle whatever the weather throws at it, whilst also saving you money.
Under 1 Year plan
Buy your first 2 services for £22.50 per month or £540 upfront2
This plan includes:
1x Oil Change Service

1x Inspection with Oil

1x Pollen Filter
2. Available for vehicles under 12 months old. Pay monthly option payable over 24 months. Excludes ABT e-Transporter. T&Cs apply. See below for full T&Cs.
Over 1 Year plan
Buy your next 2 services and MOT for £26.00 per month or £624.00 upfront3.
This plan includes:
1x Interim Service

1x Full Service

1x MOT
3. Available for vehicles aged 1-15 years. Pay monthly option payable over 24 months for vehicles under 200,000 miles. Excludes Amarok and ABT E-Transporter. T&Cs apply. See below for full T&Cs.
To book your service plan today call your local van centre or email servicecc@breeze.co.uk.
1. For vehicles up to 15 years old. T&Cs apply. Coverage varies according to the level of service plan purchased. Excludes All-in, Fixed-Cost Maintenance plans, Amarok and electric vehicles. Servicing must be carried out in line with the requirement of the service schedule at a Volkswagen Commercial Vehicle Authorised Repairer. Additional work, including wear and tear, is excluded. Cannot be used in conjunction with any other offer and may be varied or withdrawn at any time. Freepost Volkswagen Commercial Vehicle Financial Services.
Service Pricing for Commercial Vehicles at Breeze Van Centres
Our service ensures that every part of your van is in perfect working order for complete peace of mind.
We only use Volkswagen genuine parts, which come with our two years parts and labour warranty. You'll also get a Volkswagen stamp in your service book (always nice to have).
Our National Service Pricing
Available on vehicles over 3 years old, and all prices are subject to VAT.
For service pricing or parts enquiry on vehicles 3 years old and less, please contact your local Breeze Van Centre on the number given at the bottom of this page.
Model

Oil & Inspection Service (inc VAT)*

Oil & Inspection Service with

supplementary scope (inc VAT)*

Oil & Inspection Service with

pollen filter (inc VAT)*

Caddy

£226

£255

£271

Transporter T5/T6

£226

£255

£286

Amarok

£226

£255

£271

Crafter

£226

£255

£271
*Please note that depending on the age and mileage of your vehicle additional items may be due during your oil and inspection service. These include, but are not limited to: pollen filter, spark plugs (petrol vehicles only), air filter and fuel filter (diesel vehicles only)
MOT Test available across Breeze Van Centres from £54.85.
Offer valid at participating Volkswagen Centres and Authorised Repairers until 31/12/2023. Price includes VAT, which is chargeable at the applicable rate and relates to interim service and class 4 MOT for Caddy. Other prices may be applicable for other models. MOT re-test fees will be charged at the discretion of the MOT test station/Van Centre. Warranty applies from the date of purchase, excludes wear and tear and does not apply parts fitted under the terms of the vehicle warranty. Offer not applicable in Northern Ireland and may be withdrawn or varied at any time.
Our Mobile Service Clinic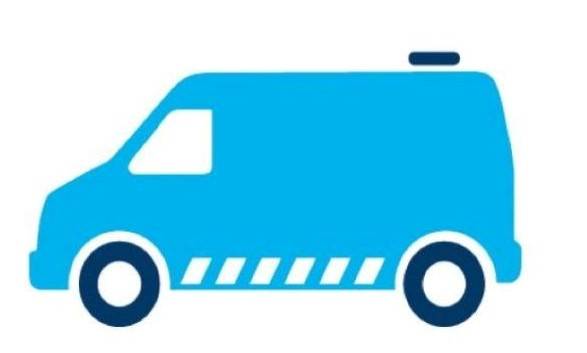 We know that bringing your van to us for a service takes up time, so instead of you coming to us for a service, how about we come to you?
It's all part of our Working With You initiative. Why not call us for an appointment and we'll book the ferry*.
What we offer
We'll ferry across our mobile service clinic* to carry out routine servicing, software updates, brake realignment, air-con refresh, diagnostics and warranty repairs.
All work is carried out to the same standards, labour rates and warranties as work undertaken in our workshop, so there are no extra costs to your business. And we're able to do this across the entire Volkswagen Commercial Vehicle range.
We can even carry out the service while you're working on a commercial site, assuming that there is suitable off-road space for us to work safely**.
*We will visit the Isle of Wight on set days during a month to carry out multiple appointments. We are unable to attend for single appointments. There is an additional charge of £78 inc VAT per booking.
**We are unable to work on the roadside but can carry out work at commercial sites and off-road private property.
Call your local Breeze Van Centre today to book, or for more information:
Poole Van Centre - 01202 713100
Southampton Van Centre - 02380 663333
Portsmouth Van Centre - 02392 652255