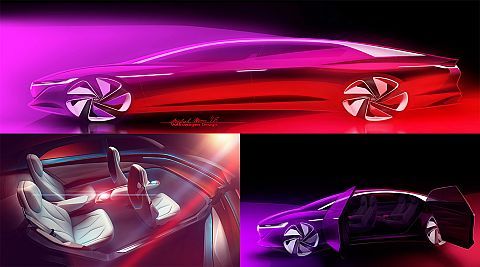 Volkswagen I.D.
22 February 2018
The largest model and innovative product campaign in the history of Volkswagen is entering its next stage. After presenting the first all-electric vehicles of the new Volkswagen I.D. Family models, the Volkswagen brand is now showing, for the first time, a concept of an autonomously driving automobile. Volkswagen is currently advancing the development of modern vehicles in all areas.
The goal: to apply innovative technology to making the automobile cleaner, safer, and much more convenient and comfortable. With these new qualities, the car will be able to further extend its significance and value for future mobility. Furthermore, the use of this car will be made possible for customer groups who cannot drive today, e.g. because of their age.
The new I.D. VIZZION concept car is the fourth member of the Volkswagen I.D. Family. With its innovative technology, fully-automated operating concept, and elegant form, the premium class saloon is showing the direction Volkswagen is taking in the technology and design of its future electric models.
Inside the I.D. VIZZION, engineers have systematically exploited the potentials of autonomous driving. The ? digital chauffeur' with its many assistance systems assumes control of the vehicle? without a steering wheel or visible controls. For the? driver' and passengers this signifies a new dimension of safety and comfort. The concept of car drives steers and navigates autonomously in traffic, enabling passengers to freely structure their time during the drive. A virtual host, with which passengers communicate via voice and gesture control, knows the personal preferences of the vehicle guests ? thanks to complete embedding into the digital eco-system? and it adapts to each of them individually.
The system power of the 5.11-meter long I.D. VIZZION is 225 kW. Its top speed is 111 mph. The 111 kWh lithium-ion batteries enable a driving range of up to 413 miles when braking regeneration is factored in. Based on its intelligent management, the two electric motors cooperate with maximum efficiency and drive all four wheels of the saloon.
The I.D. VIZZION clearly demonstrates the great potential of the all-electric architecture from Volkswagen. It is the technological backbone of future Volkswagen electric vehicles, and it enables long driving ranges and maximum space utilisation at optimal costs. By 2025, the brand plans to introduce more than 20 electric vehicle models. Starting in 2020, the I.D.² will launch as an electric car in the compact class; this will be followed, at short intervals, by a new electric SUV ? the I.D. CROZZ³ ? and the I.D. BUZZ? which is a spacious saloon.
For more information on any of our current models, contact our sales department on
01202 713000.
Latest News