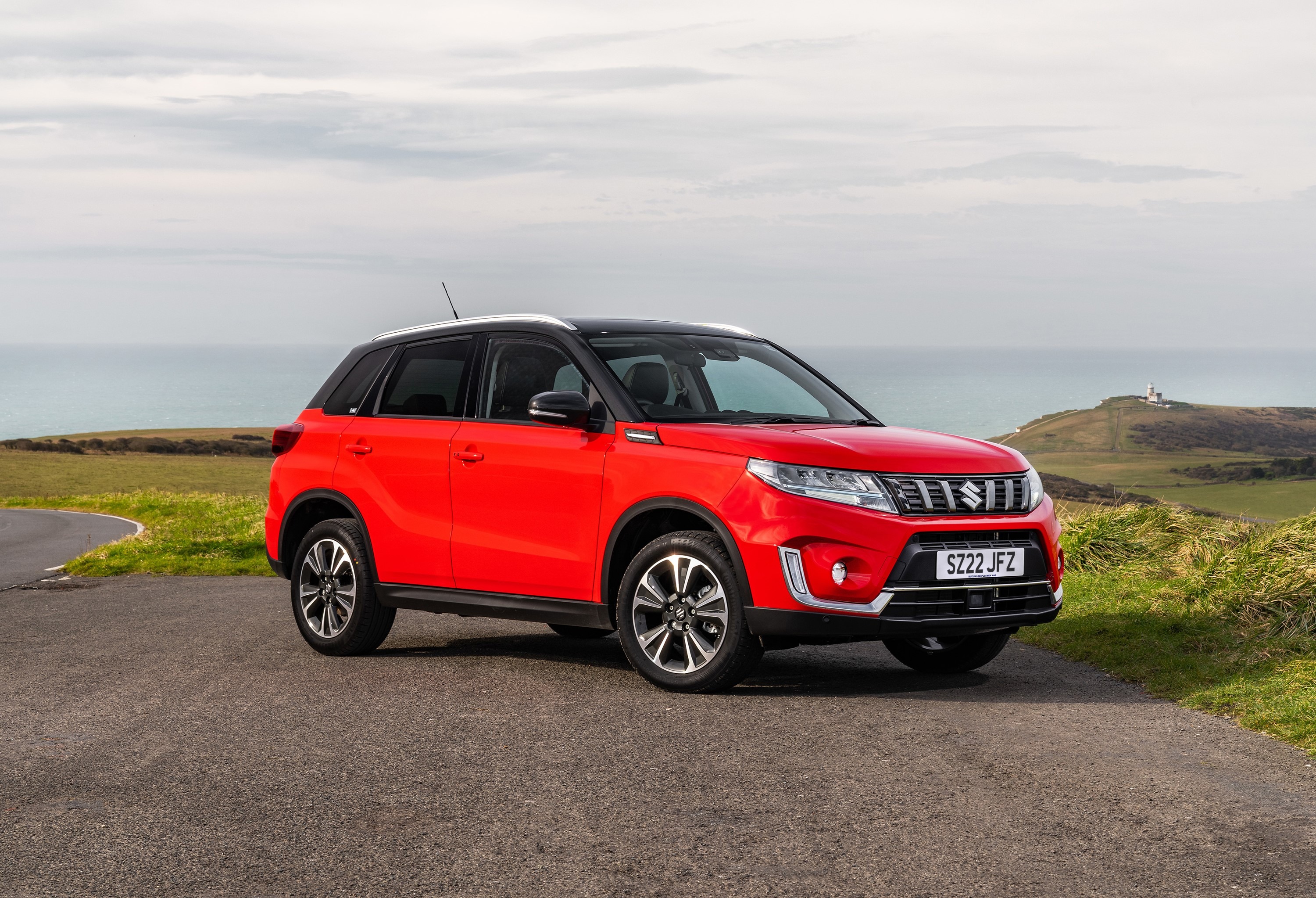 Vitara with full Hybrid technology now on sale
The Suzuki Vitara has earned high acclaim for its stylish, city oriented design, compact and easy to manage dimensions, good on-road performance and genuine off-road capability. It is now available with full (higher voltage) Hybrid technology that helps lower CO2 emissions and improve fuel consumption even further compared to mild hybrid with Automatic Transmission.
The Vitara expresses Suzuki's SUV styling heritage in a strong looking design. The clamshell bonnet (a hallmark of Vitara models) gives the front end a look of solidity and a trapezoid motif front bumper indicates powerful grip on the ground. Pronounced body side character lines and bonnet side louvres motifs are reminiscent of the first generation Vitara from 1988.
SPECIFICATION HIGHLIGHTS
Standard equipment for all models is comprehensive and the SZ-T includes seven airbags, LED multireflector headlamps for low and high beam, USB and Bluetooth connectivity, Traffic Sign Recognition, Blind Spot Monitor, Adaptive Cruise Control, auto air conditioning and front and rear electric windows, keyless entry and start, 17-inch silver painted alloy wheels, rear privacy glass, white stitching for seat trim fabric, Smartphone link audio and navigation system.
Moving up to SZ5 adds 17-inch polished alloy wheels, suede seat upholstery, Panoramic sunroof, front and rear parking sensors and availability of ALLGRIP 4WD as an option.
The Vitara is available in a total of 11 different shades of which one is a solid colour. All others include metallic finish and six are dual-tone metallic with Cosmic Black roof colour.
FULL HYBRID TECHNOLOGY
The new and higher-powered Suzuki system working in conjunction with the latest K15C engine consists of a 140V lithium-ion battery and inverter, Motor Generator Unit (known as MGU), a 12V lithium-ion battery as well as a conventional 12V lead-acid battery to power components requiring lower voltage such as lights, instruments and heating / air conditioning.
TWO-SELECTABLE MODE HYBRID SYSTEM
The new Hybrid system has two switchable modes which are Eco and Standard. One switch enables the driver to change between the two modes depending on conditions and also increases the frequency of EV driving. In Standard mode operation, the MGU more frequently assists the petrol engine to allow more spirited driving enjoyment.
MGU
The MGU acts as both a generator and starter motor, is belt driven and assists the petrol engine during vehicle take off.
The high-performance lithium-ion battery stores electrical energy recovered from deceleration and braking and incorporates an idle stop function operated via the Integrated Starter Generator.
Based on engine speed and throttle position, the engine ECU judges when the driver will accelerate and then uses electric motor assist to add additional torque.
Additionally, the hybrid system efficiently collects kinetic energy and generates electricity by stopping the engine and disengaging the clutch during deceleration which expands the EV driving range. As a full Hybrid, Vitara can run on its electric motor alone for short distances.
TRANSMISSION
The Vitara Full Hybrid is equipped as standard with Auto Gear Shift (AGS) that automatically shifts the manual transmission and gear ratios that are optimised to help provide a good combination of performance and fuel economy. This enables the driver to enjoy both the direct driving experience of a manual gearbox and the shifting ease of an Automatic Transmission. Another key advantage is lower component weight versus a conventional torque converter type Automatic. The transmission also has a manual mode with steering wheel mounted shift paddles.
One notable feature of the latest hybrid system with AGS is the position of the Motor Generator Unit on the output side of the transmission assembly. In doing this, output from the MGU is directly transmitted to the driveshafts to fill the torque gap during shifting and provides a smoother transition from the transmission.
CO2 EMISSIONS
The Vitara's CO2 emissions are low thanks to the use of hybrid technology, high tensile steel and other weight saving measures in the body. Weight savings during initial development help the Vitara remain one of the lightest SUV's in its class at just 1,268kg with an increase of only 47kg for the SZ5 ALLGRIP model.
FOUR-MODE ALLGRIP SYSTEM
Suzuki evolved its renowned four wheel drive technologies into a new generation that delivers driving pleasure and peace of mind in diverse conditions while promoting economy and limiting the burden four wheel drive cars place on the environment.
Suzuki's ALLGRIP 'Select' system is available as an option on the SZ5 model and incorporates four driver-selectable modes for safe, enjoyable driving on diverse surfaces. It debuted in the S-Cross model and has proved very successful.
In development, the Vitara ALLGRIP system was enhanced by the addition of a feed forward function that allocates torque to the rear wheels before any slippage can occur. In summary, rather than reacting after grip is lost, it controls the vehicle to prevent grip from being lost which results in greater stability.
DISPLAY AUDIO SYSTEM WITH NAVIGATION AND SMARTPHONE CONNECTIVITY
The audio system fitted has a Smartphone Linkage Display Audio (SLDA) with a large seven inch touch panel display that enables intuitive operation. This includes a three dimensional navigation map that makes landmarks easy to distinguish, the system also allows the driver to use certain smartphone applications with MirrorLink, Android Auto and Apple CarPlay connection.
Apple CarPlay is the smarter and safer way to use iPhone in the Vitara. Apart from making calls it also facilitates receiving directions for optimised traffic conditions, listening to music, accessing email, text messages and more.
SAFETY
Standard safety equipment includes seven airbags which includes a driver's knee airbag as well as seat belt pre-tensioners and force limiters. Several highlights of the standard fitment safety features include:
DUAL SENSOR BRAKE SUPPORT (DSBS)
The advanced forward detection system fitted as standard on all Vitara models supports numerous safety technologies of which collision-mitigating Dual Sensor Brake Support (DSBS) is included. With DSBS, at vehicle speeds from approximately 3mph to 62mph, if the system determines a risk of collision with a forward obstacle, it issues both an audio and visual warning. If there is a high risk of collision with a forward obstacle and the driver panic brakes, the system deploys brake assist, increasing braking force. If the risk of a collision increases even more, the system applies full automatic braking in an effort to avoid the collision or reduce damage.
BLIND SPOT MONITOR
Lane changing at speeds above 10mph is made safer with the addition of the Blind Spot Monitor function. The system has two rear mounted side radar sensors that are capable of detecting vehicles located in or approaching the rear blind spots on either side of the vehicle. Once detected, a warning LED icon is illuminated in the relevant exterior mirror. If the driver ignores it and indicates to change lanes, a flashing LED icon is accompanied by a warning sound alert.
LANE DEPARTURE WARNING / LANE DEPARTURE PREVENTION FUNCTION
Lane Departure Warning and also Lane Departure Prevention is standard equipment on all full hybrid Vitara models. When the vehicle is travelling at vehicle speeds of approximately 37mph and up to 100mph (where permitted) and is departing the lane without the driver using a turn signal, the system vibrates and provides some input to the steering wheel as well as illuminating a warning indicator in the instrument cluster to draw attention to the driver.
To arrange a test drive, call the Breeze Suzuki team on 01202 099761
Latest News