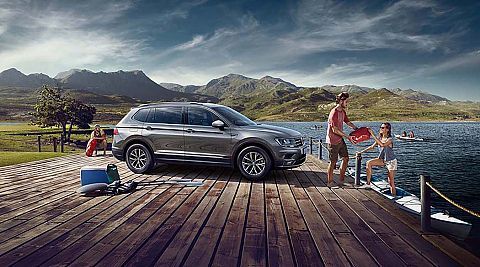 Tiguan celebrates a decade of growth.
31 January 2018
It was a decade ago today that Volkswagen's first compact SUV went on sale in the United Kingdom. Through a combination of urban elegance and rugged off-road ability, the Tiguan has become a key member of the brand's product portfolio.
On sale across Volkswagen's UK Retailer network from January 31, 2008, the first generation Tiguan featured exterior styling that echoed that of its bigger brother, the Touareg. Distinctive elements, such as a clamshell bonnet, gave the Tiguan MkI its own character. The option of an off-road pack meant the model could be tailored to customer needs while the compact exterior dimensions masked generous interior space.
Perhaps the most remarkable aspect of the original Tiguan's performance here is that the number of cars sold in the UK climbed ever higher with every passing year. In the model's final full year on sale, 2015, a total of 21,889 Tiguan MkIs were sold in the UK. That's nearly 5,000 more than in 2014 and more than 8,000 in 2013. In total, 102,974 Tiguan MkII has been sold here.
That impressive sales growth has accelerated with the second-generation Tiguan. Last year, 2017, was the most successful in Tiguan's 10-year history with 29,117 new Tiguans finding homes in the UK. The popularity of this SUV is underpinned by its generous list of standard features, with every model sold here now including key safety systems such as Lane Assist and Front Assist.
Other ubiquitous features in today's Tiguan include electrically heated and adjustable door mirrors, automatic windscreen wipers, and 17-inch alloy wheels. The infotainment system has developed significantly in the past decade, too, and all Tiguan's now include a colour touchscreen of at least 8.0-inches in size. Two mobile smartphones can be paired to the car via Bluetooth, and music can be played from MP3, WMA, or AAC files. Or, of course, from a compact disc.
Over the past 10 years, Volkswagen has invested extensively in research and development and the results can be seen in the second-generation Tiguan. At the top of the Tiguan, the range is the luxurious SEL and the sporty R-Line models. These include examples of this class-leading technology such as Active Info Display: a 12.3-inch high-resolution TFT display screen in front of the driver in lieu of traditional analog instrumentation.
SEL and R-Line versions also include LED headlights with dynamic curve lighting. This turns an element of the Tiguan's headlight set up so that it lights up the corner the vehicle is approaching. These models feature a panoramic sunroof and, from SE trim, there is Adaptive Cruise Control that takes the strain out of motorway driving.
Tiguan is closing in on its 150,000th sale in the UK and through the past 10 years it has become established as one of the UK's favorite SUVs. At the same time Volkswagen's comprehensive SUV offering has grown around it, the all-new Tiguan Allspace launched to UK buyers only this month. With a wheelbase that's 109 mm longer than the regular Tiguan, allowing the third row of seats to be easily accommodated and folded flat too, opening up a vast luggage area when needed.
For more information on any models in the Tiguan range and to book your test drive, call our sales department on 01202 713000.
Latest News