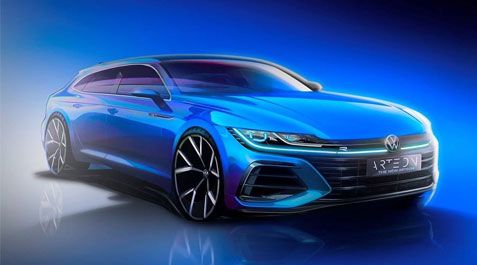 The new Volkswagen Arteon facelift & Arteon R is coming!
Volkswagen gives a first preview of the new Arteon including a second product line variant, a Shooting Brake, available in the future.
This model is both dynamic and elegant and impresses with the flexible concept of an estate. Head of Volkswagen Group Design, Klaus Bischoff, says "With the Volkswagen Arteon Shooting Brake we have created a new balance between speed, power, and space."
All engines feature high levels of efficiency as well as low emissions and powerful torque. This maximum efficiency is achieved by an innovative and future-oriented engine, with intelligent assist systems to be introduced in this avant-garde model line!
"Travel Assist" will also be possible in the new Volkswagen Arteon models for the first time, if required. With long-distance journey design in mind, this functionality will take over steering, acceleration, and braking up to speeds of 210km/h under the control of the driver.
This vehicle is a near-production concept car. The world premiere and detailed information about the Arteon and Arteon Shooting Brake will follow in June.
The current Arteon model is available at Breeze Volkswagen, with the facelift and Arteon Shooting Brake coming soon. Contact us via phone or social media for further information relating to the new Arteon:
Facebook - @BreezeVolkswagen
Instagram - @breezevolkswagen
Latest News