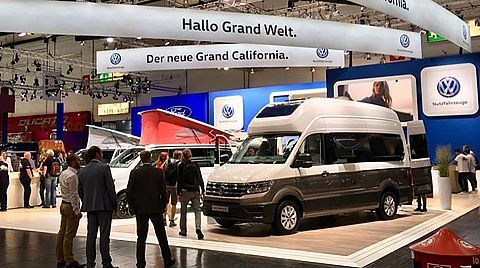 The Grand California has made its public debut!
28 August 2018
The Grand California has made its public debut at this year's Caravan Salon in Düsseldorf, Germany.
Motorhome fans flocking to the event already knew the new model would be there, seen by the public for the very first time – but they were not expecting to see two versions and a limited-edition California 30 Years model.
The new 6m-long family-oriented Grand California has everything including the kitchen sink - as well as its first-ever bathroom with WC and shower and a new sleeping area in the rear, plus optional high bunk beds for children.
The brand is displaying two large Crafter-based motorhomes in Düsseldorf: the Grand California 600 and the Grand California 680. The former is six meters long and has a laterally integrated bed in the rear measuring 1,950 x 1,400mm. It's set to give owners the option to include a bed for children in the redesigned campervan roof space – making it the ideal mobile home for families.
The 6.8m-long Grand California 680 has a larger sleeping area (2,000 x 1,700mm) positioned lengthways at the rear and offers more cargo space than the 600. It also has an extended, super-high production roof from the Crafter.
The Grand California will be launched internationally early in 2019; exact dates, specifications, and volumes for the UK are yet to be confirmed.
Latest News