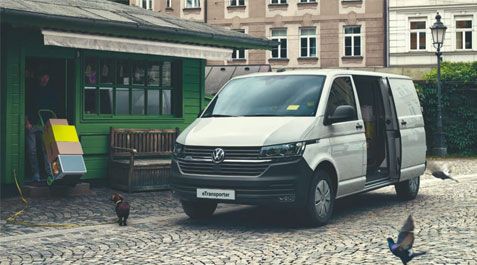 The ABT eTransporter is ALMOST HERE
We've waited long enough... now the ABT eTransporter is SO close!
We're looking at a matter of weeks until the new ABT eTransporter arrives here with us at Breeze Volkswagen Van Centres in Portsmouth & Southampton, Hampshire and Poole, Dorset.
The ABT eTransporter 6.1 combines our expertise with ABT e-Line, taking the impeccable standards you've come to love about our vehicles and updated the drivetrain to be more sustainable than ever. It is perfectly suited to many different business types and has a payload of up to 1,001 kg making it easier to meet the needs of your working day.
Our first electric offering in Volkswagen Commercial Vehicles will be available in two trim levels (ABT eTransporter 6.1 and 6.1 Advance), both with rear parking sensors, air conditioning and Front Assist as standard. This vehicle is available either as a Panel Van or Kombi from Breeze Van Centres.
So...ready to take the leap into electric? Contact our teams at any of our Van Centres and they'll be more than happy to help.
Breeze Van Centre Portsmouth - 02392 652255
Breeze Van Centre Poole - 01202 713100
Breeze Van Centre Southampton - 02380 663333
Make sure you're following us on social media too for the latest updates!
Facebook: @BreezeVolkwagenVanCentres
Instagram: @breezevancentres
Latest News