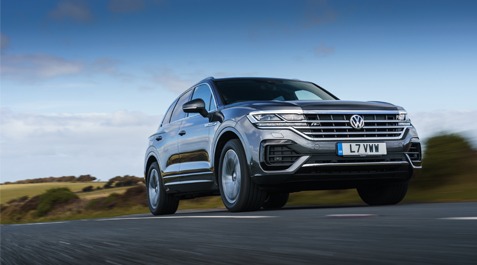 Readers vote for Touareg and Golf GTI in Autotrader & Autocar awards!
The people's cars: Auto Trader and Autocar readers vote for their chosen vehicles in respective categories
The Volkswagen Touareg and Golf GTI have both been awarded impressive titles in seperate awards ceremonies voted for by the public, praising each model in an area for which it has long been renowned!
At the Auto Trader New Car Awards, the Touareg won the title for Best Car For Towing with owners highlighting the model's safety features, practicality and comfort as well as smooth 3.0L V6 TDI engine. Auto Trader readers also pointed out the Touareg's opulence, design and commanding driving position as particularly desirable characteristics.
The Touareg's Trailer Assist system was given a special mention as one of its most intuitive features, by temporarily repurposing the door mirror adjustment joystick to control the steering angle and guide the trailer. This takes the unpredictability out of reversing with a trailer, and leaves the challenging element of this task to the highly-intuitive Touareg.
Another public vote was won by the Golf GTI, bringing home the title of Readers' Champion as part of the dream three-car garage challenge put to the audience. The three categories represented the ultimate three-car combination, with 'Just for Fun', 'Wildcard' and 'Daily Driver' (of which the Golf GTI triumphed. Autocar readers chose the Golf GTI as their Daily Driver of choice, opting for the spec with a 6-speed manual gearbox for this category. This is the second time the Golf GTI has won the Readers' Champion award having received this title previously in 2017 by readers of Autocar.
"Awards from expert panels are always appreciated, and let us know that work we're doing is hitting the spot with consumers. But accolades like these, where the public votes for our cars, are all the more satisfying.
The Golf GTI is the consummate all-rounder, which is why it has reached icon status among car fans, and why it was the first car in the voting public thought of as Autocar's Daily Driver. Meanwhile, the Touareg's sheer capability, both as a tow car and as a luxury SUV in its own right, make it formidable competition in most categories, but the model's trailer-friendly talents have been a hit with expert panels, as well as the readers of Auto Trader, who together judge it to be the best car for towing." said Andrew Savvas, Director at Volkswagen UK.
It is a pleasure to be able to offer both the Golf 8 GTI and Touareg models here at Breeze Volkswagen, they are both huge favourites for our customers.
Latest News