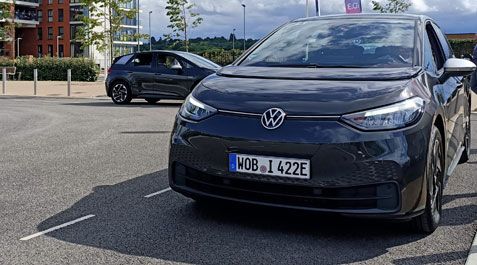 ID.3 breaks range record!
The Volkswagen ID.3 makes it mark even before arrival!
It's safe to say we're more than excited to see the Volkswagen ID.3 arrive here at Breeze Volkswagen in Poole, Dorset, but even more so now its completed a record-breaking journey on single charge...
The Manganese Grey ID.3 1st Edition Pro Performance travelled from Zwickau to Switzerland on SINGLE charge, covering a total of 531 kilometers (329 miles) with a 58 kWh battery and 204ps! This topped the range of the model by over 100 kilometers (69 miles).
Although this record-breaking journey is not entirely comparable with daily trips the ID.3 would take around Dorset, but it most definitely underpins the everyday practicality. 44% of the record journey was on motorways, and 56% on country roads with an average speed of 56 km/h.
The ID.3 will be here with us at Breeze Volkswagen in a matter of WEEKS. We can't wait for it to be here in the showroom for you all to come and enjoy!
Give the team a call on 01202 713000 to make an appointment, or to discuss just how perfect the ID.3 could be for you!
Latest News