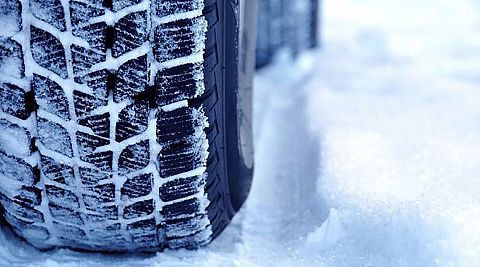 How to make sure your car is in tip-top condition this Winter
At this time of year, it's vital that your car is in proper working order so that it's capable of dealing with the bad weather and, more importantly, it won't break down!
Get your car checked over.
Our first and biggest tip - if your car is due a service, get it done before the winter and the bad weather arrives. The cold can cause lots of problems for cars, and up to half of them could have been prevented by regular servicing and maintenance checks. That's why we offer a Winter Health Check for just £20 to ensure your car is in tip-top condition to handle the winter months.
Check the battery
During the winter months, the battery suffers from cold temperatures and the increased use of lights, heater and blower all place it under additional strain. If your car is having problems starting, get it checked out and replaced if necessary.
Check the condition of your tyres
As a car's tyres are key to both steering and braking, it is essential they are in good condition. Ensure you check the tyres for pressure and tread depth. A minimum of 3mm depth during the winter will give them a better grip.
A useful tip is to place a 20p coin in a ridge between the tread on your tyres and look at it from a level angle. If you can see most of the outer ring of the coin, then your tread is too worn down. If it covers most of the outer ring you should have enough tread left to last through the winter months. Check 3 different areas of each tyre just to make sure your tyres are ready for winter.
Check your tyre pressure
Did you know tyre pressure can drop up to one pound per square inch with every 10 degrees drop in air temperature? Driving around with low tyre pressure could mean premature tyre wear or potential tread separation, which could lead to difficulty in car handling or even an accident, so it is crucial to keep an eye on your tyres and to keep them pumped up.
Clear off all the snow and ice
Clear all the windscreen before you travel, not just a tiny hole for you to peek out of! You need a full field of vision when you're driving, so wait until it is all clear and don't forget to clear your mirrors too. This also means ensuring your windscreen is de-iced on the outside and thoroughly demisted on the inside. If snow or ice are covering the windows of your car you may incur a fine, or more importantly, you could place your life, the lives of your passengers and the lives of those around you in danger.
Look after your windscreen and wipers
Avoid using hot water to unfreeze your windscreen as it can re-freeze quickly and this can cause the windscreen to crack – especially if there are already any chips. It is also important to check regularly for any chips in your windscreen, as these can grow in the colder weather.
If you would prefer to avoid your windscreen freezing over in the morning, purchase a windscreen cover from the likes of Aldi, Lidl or on Amazon... yes, they really do work!
Because of the ice freezing over the windscreen, it is also common for windscreen wipers to get caught on the ice and tear. Before you turn on your windscreen wipers, manually pick them up off the windscreen to make sure they aren't stuck; this will prevent them from breaking.
Ensure your lights are working
Late sunrises and early sunsets make for a dark commute, so it's very important to check your lights are working correctly. It is essential you do everything you possibly can to make sure all your vehicle's lights are in excellent shape, providing the brightest possible illumination they can.
If a bulb is out, fix it before winter starts, if there's snow covering any exterior light, make sure you remove it before setting off to drive anywhere and if your headlights are foggy or yellow, consider replacing them.
Carry a winter car breakdown kit
Our Winter Health Check comes with a Winter Care car kit including all you need to brave the elements: screen wash, ice scraper, de-icer and rubber care to help protect your window seals.
We would also recommend a torch, some food & drink supplies and a charging cable for your phone because as we've all come to realise this year, you never know how bad the snowy weather could get!
Latest News