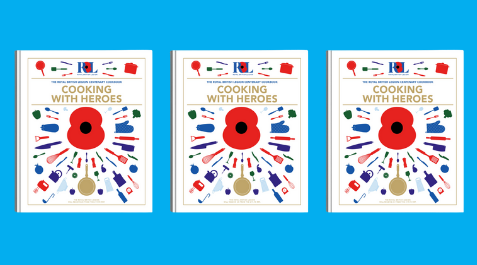 Calling all Cali owners - it's competition time!
Competition time!
We are looking for Cali owners to show off their culinary skills and share photos of the best meal created in their camper! We'll be selecting 3 lucky winners to receive a copy of the Royal British Region century cookbook.
The competition will run from the 10th of September to the 17th of September.
Follow the link to our Facebook page to see more details and enter:
Breeze Volkswagen Van Centres | Facebook
We look forward to receiving your entries and seeing how many camper chefs we have out there!
Terms and Conditions:
These terms and conditions ("Terms") govern all entries into our prize draw to win a copy of the Royal British Legion cookbook (the "Promotion").
1. The Promoter: Breeze Motor Group, Yarrow Road, Poole, BH12 4QY.
The Promotion:
2. Open to all United Kingdom residents (England, Scotland, Wales, and Northern Ireland) over the age of 18.
3. Excludes all employees of Volkswagen Group United Kingdom Limited, their agents or contractors, Volkswagen Group brand retailers and anyone else connected with this Promotion.
4. The Promotion opens for entries on 10 September 2021 and closes for entries 16 September 2021 ("Promotion Period").
5. Internet access is required. To enter, entrants will need a Facebook account set to public. Entries made on Facebook will be subject to Facebook's terms of service
How to enter:
6. To enter the Promotion, please post an image of your Campervan cooking creation in the comments below one of the competition promotional posts on the Breeze Volkswagen Van Centres Facebook page (@breezevolkswagenvancentres).
7. Entries can only be made under the competition promotional posts on the Breeze Volkswagen Van Centres Facebook page (@breezevolkswagenvancentres). Please do not post your entries under any other post as they will not be included in the Promotion.
8. Entrants must ensure their entry is an original work created solely by the entrant and does not copy or include any content, material, rights, brands, names or logos owned by any third party. Entrants must ensure that their entry does not include anything which is offensive, inappropriate, unlawful or likely to damage, their, the Promoter's or anyone else's reputation (as determined by the Promoter in its sole discretion). Entrants must also ensure that their entry complies with Facebook's terms of service and other applicable Facebook policies and guidelines.
9. Entrants must ensure that where their entry includes images of other people, they have the permission of all of those individuals featured to include them in their entry for this Promotion and to post their image, as part of their entry, on Facebook.
10. Each entrant may enter more than one image but will only be able to win one prize.
11. To enter from a private account, please amend your account settings to a public account in order for entry to be accepted. The account should remain public for up to one week after the end of the Promotion, in order to enable the Promoter to contact you if you are a winner.
The Prize
12. The Prize: A copy of The Royal British Legion 'Cooking with Heroes' Centenary Cookbook
13. The Prize is non-transferable and non-refundable. There is no cash alternative.
Winner Selection
14. 3 winners ("Winners") will be selected at random by the Promoter, from all valid entries received during the Promotion Period.
Winner Notification
15. Winners will be announced on Facebook within 24 hours from the end of the Promotion Period.
16. Winners will be contacted by private message to provide their name, email address and mailing address for prize delivery.
General
17. Winners may be requested to take part in non-paid publicity or advertising relating to the prize draw, which may include having their photograph taken for promotional or press purposes.
18. By submitting their entry, an entrant grants the Promoter a non-exclusive, perpetual, irrevocable, worldwide, royalty-free, transferable and sub-licensable licence to use and publish their entry on its social media accounts and on its websites. The entrant shall provide the Promoter with all reasonable, further assistance to enable the Promoter to use their entry as set out in this paragraph.
19. No purchase is necessary.
20. Facebook: This Promotion is run by Breeze Motor Group. This Promotion is in no way sponsored, endorsed or administered by, or associated with, Facebook.
PRIVACY NOTICE
1. Your personal data will be held by the Promoter and the Administrator and used only for the purpose of administering the Promotion in accordance with the terms and conditions. The terms and conditions are the legal basis for the Promoter's processing. If you do not provide your personal data, the Promoter cannot process your entry and cannot notify you if you are successful.
2. If you are selected as a winner of the prize draw, the Promoter or Administrator will contact you by private message on Facebook to notify you of this. The Promoter or Administrator will also ask you for your name, email address and address so that they can:
confirm your acceptance of the prize and verify your eligibility (e.g. confirm that you are over eighteen (18) years old) in line with the prize draw terms and conditions

provide the prize to you.
Latest News