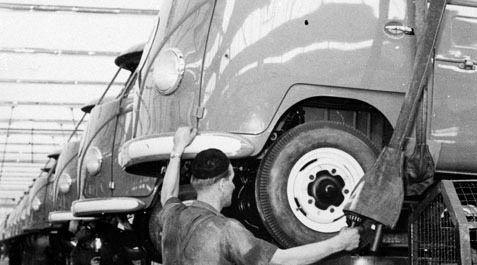 65 years of the Bulli!
Production of the Bulli started 65 years ago at the factory in Hannover, and has now produced 9.2 million!
The legendary VW T2, lovingly known as the Bulli by fans, has been produced at Volkswagen Commercial Vehicles' plant in Hannover-Stocken since 1956.
The production operation at the Hannover plant is currently being modernised and re-organised to prepare for production of conventional, plug-in hybrid and fully electric drive system vehicles for the first time. The launch of the new Multivan this year and ID.BUZZ in 2022 has brought this preparation forward faster than anticipated.
"We can look back with pride on what we have achieved here in Hannover. The history of the plant is as unique as the Bulli itself - and as the people who have built millions of these vehicles here... we're looking to the future on this site, with the launch of the new Multivan this year and the ID.BUZZ from 2022." says Carsten Intra, Chairman, Brand Management Board, VWCV.
At Breeze Van Centres we'd like to wish the Bulli and the team at Hannover a very happy 65th Anniversary! A lot of hard work has gone into the production of this plant, and we're very proud to be a part of it.
Latest News