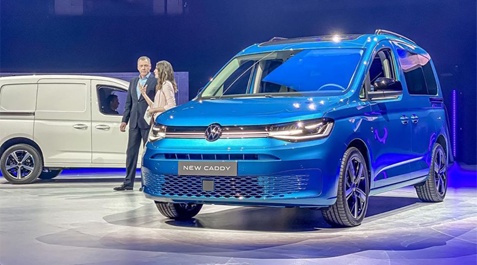 2020 Volkswagen Caddy world premiere in Dusseldorf
The fifth generation of Volkswagen Caddy is here!
Over three million of the Volkswagen Caddy has been built to date, as Volkswagen Commercial Vehicles reveal the fifth generation at its world premiere in Dusseldorf this week.
New high-end technologies now find their way into the range, with innovative driver assistance systems to enhance safety and make driving easier. The exterior has been given a completely new and strikingly sporty design, with significant improvements on the vehicle interior.
VWCV CEO says "With its significant increase in space, absolute perfection in detail, new technologies, and a new design dynamic, the new Caddy is making a huge leap forward".
Charismatic design and new exterior features
The MQB platform has brought a completely redesigned vehicle body, more charismatic than ever. In terms of engineering and specification, the exterior of the Caddy has a number of new features. These include as options the electric closing aids for sliding doors and tailgate, as well as an option for panoramic sunroof above the first and second row of seats. Up to 18-inch alloy wheels are another new optional extra, with new LED headlights and LED read lights fitted as standard.
Included for the first time are the Keyless Access ignition and locking system, as well as the "Digital Cockpit".
The Volkswagen Caddy will launch later this year, so keep an eye out on our @BreezeVanCentres Facebook/Instagram for updates!
Latest News