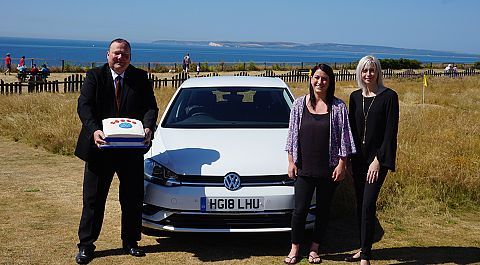 We have hit a milestone 20,000 corporate customers!
19 July 2018
At Breeze Volkswagen, we have handed over the keys to our 20,000th corporate customer after serving the business community for 18 years!
Upon handing over the vehicle to Café Riva in Southbourne, we captured the milestone by recreating a photograph taken when the company sold its 1,000 vehicles, back in 2004.
Martin Pye, who has been our fleet manager from the start felt this was a proud moment for his team. He said: "As a small team of four we cover the region from Poole through to Portsmouth and we feel this is a significant milestone."
"Our customers have a high expectation - and so they should. We work hard to understand their needs and to establish the right vehicle and finance and servicing package. I am very proud of my team."
Rob and Becky Green, owners of Café Riva said: "This is now our third car from the Breeze team. We'll keep going back for all our company vehicles because of their consistently good service."
For more information on how our corporate department could assist your business, contact us on 01202 713000.
Latest News