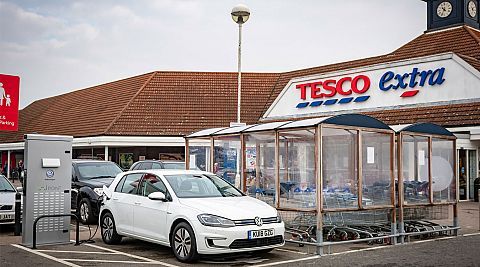 Volkswagen, Tesco and Pod Point team up to roll out UK'S largest retail network of EV chargers
22 January 2019
Volkswagen, Tesco, and Pod Point team up to roll out UK'S largest retail network of EV chargers
The world's largest vehicle manufacturer and UK's largest fuel retailer will place more than 2,400 EV charging bays across 600 Tesco stores within the next three years.
These charging bays will be based in Tesco Extra and Superstore car parks throughout the UK.
Customers will be able to charge their electric cars using a standard 7kW fast charger for free or benefit from the use of a rapid 50 kW charger for a small cost in line with the market rate.
The ambitious initiative underlines Volkswagen's commitment to becoming a leading player in e-mobility and delivers on its pledge to sell one million electric cars a year worldwide by 2025.
The ID. family of all-electric models, based on the Volkswagen Group's new MEB electric platform, will begin coming to the UK next year as order books open for the ID. hatch – a fully electric Golf-sized model that will be followed from 2020 by production versions of the ID. BUZZ (MPV) and ID. CROZZ (SUV) concept cars.
Even before the arrival of the ID. family, however, the appeal of Volkswagen's electric cars is already well established, with the e-Golf and e-up! both proving popular.
Geraldine Ingham, Head of Marketing at Volkswagen UK, said: "This incredibly exciting partnership with Tesco, powered by Pod Point, underlines the scale and ambition of our electric car program in the UK."
Latest News