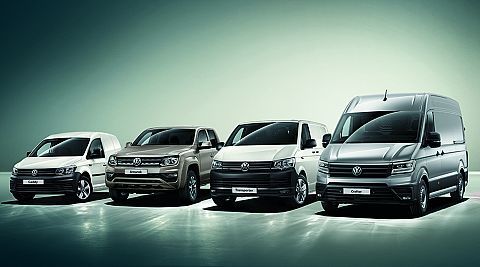 Van rental now available at Breeze Volkswagen Portsmouth
12 February 2019
Do you need a bigger van or more seats - for a weekend away, trip to Ikea (other stores are available!) or to support your fleet at times of peak business? Now you can hire a range of Volkswagen vans direct from Breeze Volkswagen Van Centre Portsmouth as part of the Volkswagen Financial Services Rent-a-Car scheme.
Breeze Volkswagen Portsmouth is one of the first UK retailers to offer the service; enabling customers to select, book and pay for their Volkswagen van online ahead of the collection at the new van centre at Dunsbury Park, Havant.
Alan Brooks, Head of Business at Breeze Van Centre Portsmouth said: "We are delighted to be able to provide this exciting new service to local customers and businesses. Vehicle ownership is evolving and it's crucial we keep reviewing our services to ensure our customers changing needs are met. Additionally, this will further support our ability to help local businesses with their short term van hire needs".
The Rent-a-Car van rental service will provide transparent pricing, a vehicle of choice with guaranteed no substitutions, low excess as standard and paperless vehicle check-in and out. The service also includes six-point photography of the vehicle to alleviate potential concerns in relation to vehicle damage charges.
To make a booking visit www.vwfsrentacar.co.uk or call Breeze Van Centre Portsmouth on 023 9239 5806.
Latest News