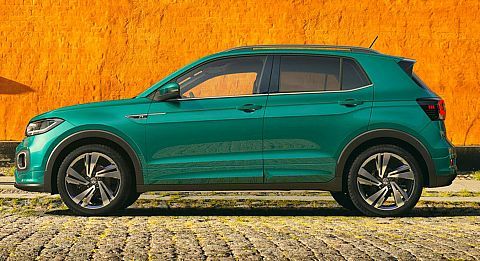 The New Volkswagen T-Cross at Breeze
27 November 2018
The new Volkswagen T-Cross is a true all-rounder. It not only impresses with its striking, dynamic design but its flexibility too. With its countless design options, you can enjoy more freedom to be spontaneous in everyday life and your longer trips.
From its contemporary styling to its distinctive rear, complementing urban appeal with functional design. The new T-Cross leaves day-to-day conventions behind.
The LED headlights of the T-Cross have a singular signature style – especially the built-in LED daytime running lights with their dynamic hockey-stick design. Around the back is where you'll spot the T-Cross's most distinctive feature, though – a wraparound light bar that stretches across the backside of the car and the O-shaped chrome element in the bumper which surrounds the cornering light is a true eye-catcher.
One of the hallmarks of the T-Cross is its incredible versatility. Its adaptable interior means you can customise your comfort to your personal needs. There is a wonderful feeling of freedom thanks to the raised seating position and roominess. And with a capacity of up to 455 litres, the luggage compartment volume is pretty impressive, too. If you still need more, you can increase the loading space with the sliding and segmented rear seat bench and by altering the height and length of the centre armrests.
Loading heavy items shouldn't be too tricky, either, thanks to the Volkswagen T-Cross' wide boot opening and adjustable boot floor that can be raised to form a completely flat load bay.
The Beats sound system ensures everyone in your T-Cross enjoys a first-class sound experience. The subwoofer with its ultra-deep bass notes is guaranteed to create vibrations in the pit of your stomach. All the boxes are fired by an 8-channel amplifier with a 300 watts output, powerful enough to move you and your passengers.
If you're interested in the Volkswagen T-Cross and would like to be kept up to date on release information, register your interest with us HERE and we will contact you with pre-sale, demo, and more information as we have it.
Latest News