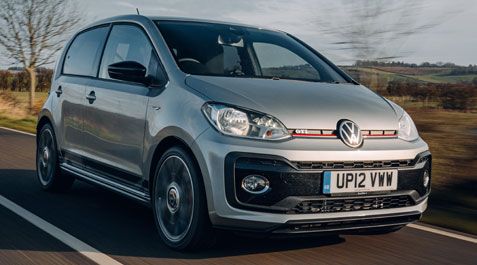 Thank you The Sunday Times awards, TWO MORE AWARDS
The up! GTI receives an award for 'Value Car of the Year' alongside a strong accolade for the Volkswagen brand
The fun-filled up! GTI takes home the 'Value Car of the Year' title, with the Volkswagen brand being awarded 'Manufacturer of the Year' at The Sunday Times annual awards!
"The up! GTI captures the spirit of the original Golf GTI, a pocket rocket that is incredibly fun to drive but won't break the bank. And while Volkswagen is still developing high-quality cars that are a testament to its esteemed heritage, we also had to recognise the brand for its renewed focus on hybrid and electric models - the ID. the range is one to watch and its arrival could mark another significant moment in the history of motoring." says Will Dron, Editor of The Sunday Times' Driving.co.uk.
2020 for Volkswagen is not set to slow, with the imminent arrival of the new Arteon Shooting Brake and facelift 2020 Tiguan. Volkswagen R variants of the Tiguan and Touareg will arrive with us in early 2021, closely followed by Arteon R and the appearance of the ID.4.
Andrew Savvas, Managing Director of Volkswagen UK said: "The up! GTI's success as 'Value Car of the Year' is also pleasing, given its status as a through-and-through driver's car with GTI DNA running through it. It is a great value, brilliantly fun package.
In regard to the 'Manufacturer of the Year' award for Volkswagen, this is something else entirely. This recognises every car we offer, from the up! itself to the Touareg luxury SUV, and includes hot-off-the-press models like the newly introduced ID.3, the upcoming ID.4, updated Tiguan, and a raft of exciting R models to set pulses racing. It also recognises the level of investment we are making, compared with other car brands, in the field of e-mobility. I am really pleased and proud for Volkswagen to receive this prestigious accolade."
The up! GTI is available here at Breeze Volkswagen, alongside the other vehicles mentioned that have been released and will be released shortly. We look forward to seeing these new models enter our offering!
Follow our social accounts to keep up with the latest news, and arrivals of new models:
Facebook - @BreezeVolkswagen
Instagram - @breezevolkswagen
Latest News