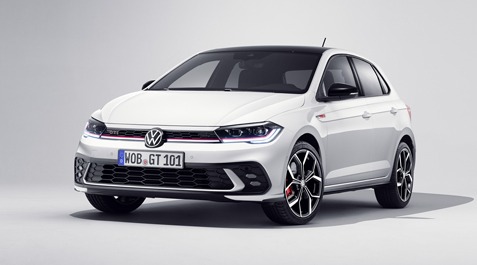 Sixth generation of Polo: Along comes the GTI
The new Polo GTI: A modern sports car in the best tradition
In April Volkswagen presented the latest sixth generation of Polo, and along comes the sportiest version - the new Polo GTI.
The first VW Polo GTI arrived in 1998 after the Golf and Scirocco, and this latest incorporation continues the GTI tradition setting a new benchmark for compact cars. The powerful TSI engine brings a unique sports chassis specific to the Polo GTI, and also allows semi-automated driving as an option for the first time.
The semi-automated driving option is known as IQ.DRIVE Travel Assist, which can take over the steering, braking, and accelerating of the new Polo GTI. It can also call upon Adaptive Cruise Control and Lane Assist which can be activated by the Travel Assist button in the multifunctional, leather sports steering wheel. The driver's hands must remain on the steering wheel whilst using the system.
An Online Connectivity Unit with an integrated eSIM makes it possible to use online services from We Connect (prepared for a limited time) and We Connect Plus (prepared for free use in Europe for 1 or 3 years). The Polo GTI brings features including App-Connect Wireless for Apple CarPlay and Android Auto wireless, as well as the Digital Cockpit Pro with a screen measuring 10.25 inches.
Sportiness alongside efficiency and moderate consumption
The new Polo GTI is a front-wheel drive, turbo-charged with gear changes via a seven-speed dual-clutch transmission (DSG) as standard. It also comes with the new IQ.Light as standard, which includes LED matrix headlights and an illuminated radiator grille bar to distinctively enhance the daytime running light.
Newly-designed LED rear lights with animated brake lights and integrated dynamic indicators are a few of the visual changes of the new Polo GTI, as well as a new GTI-specific bumper giving the sports car an even more visual presence on the roads.
The 2021 Polo GTI is available in five colours: Deep Black Pearl Effect, Smoke Grey Metallic, Kings Red Metallic, Pure White Uni, and Reef Blue Metallic. The Roof Pack is also an available option to combine with the last three colours listed above. It comes with 17-inch alloy wheels as standard with an optional upgrade of 18-inch alloys.
We're hoping to see the new Polo GTI at the end of this year! Stay in touch for the latest news and model arrivals on our social channels:
Facebook: @BreezeVolkswagen
Instagram: @breezevolkswagen
Latest News