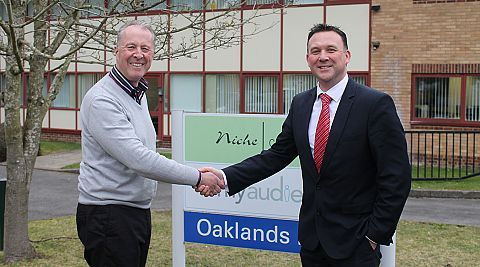 Niche Communications receive delivery of 75 Volkswagen cars.
01 May 2018
Breeze Volkswagen Poole has secured a major fleet deal with a national estate agent marketing agency. Supplying Niche Communications with a fleet of 75 cars.
The property communications specialist manages a team of 70 marketing experts who travel the country providing estate agents with the latest technical and immersive marketing know-how.
Staff feedback sealed the deal after Niche employees praised the cars for comfort, safety features and extensive accessories as Debbie Willoughby, fleet manager at Niche Communications, explained.
"On average each of our marketing experts can drive 2,000 miles a month so their car is their office – our first priority was that the fleet needed to be reliable."
"We then asked our team what they wanted in a car. Safety features, fuel efficiency and comfort came out on top. After comparing a few models, the Golf with its diverse variants within the same model made the ideal choice."
"Our team couldn't have been more delighted. We have received umpteen staff comments praising the cars' extensive features that came as standard, including the satellite navigation, parking sensors, heated seats and simply that the car is a joy to drive."
"The team at Breeze have made the entire process easy. After helping us to find the best model for our needs they provided a one-to-one handover to all our team, ensuring each driver fully understands the Golfs numerous features."
Neil Carlton, Business Development Manager from Breeze Volkswagen, added: "The Company's fleet includes both Golf and Tiguan models and we are pleased to hear such positive remarks from the Niche Communications team. Our dedicated fleet department is focused on really understanding our customers' needs to help find them find the best solution. We look forward to continuing our partnership over the coming years."
For further information or to find out how our corporate department could assist you or your business, contact Breeze Volkswagen on 01202 713000.
Latest News