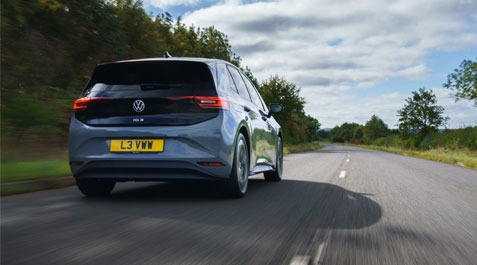 New ID.3 Pro - lowest entry price yet!
Volkswagen brings an additional motor option and even lower entry price to the ID.3 offering
The ID.3 Life Pro is available to order priced from £28,670 RRP OTR - the lowest entry price of the ID.3 yet!
The Pro electric motor option is available across all variants of the new ID.3 including Life, Business and Family specifications. It offers a 145ps power output in addition to the existing introductory 204ps Pro Performance version. The impressive electric range of the ID.3 remains the same for the Pro offering of up to 263 miles from the 58 kWh battery.
In the Life specification, the ID.3 Pro starts at £28,670 with the equally impressive charging performance of a 35-minute recharge to 80% capacity at a 100 kW CCS Direct Current charger.
"Its transmission may be an innovative one-speed unit, but the ID.3 is metaphorically stepping up a gear with the Pro variant, because it provides an alternative to the top-spec Pro Performance model which has been on sale since September. All of the same features and talents are available on the Pro model, albeit with a slightly lower power output." says Joe Laurence, ID. Family Product Manager at Volkswagen UK.
Volkswagen's electric offering continues to increase at speed with customers now able to order the ID.4 1st Edition - the second model to be released out of the Volkswagen ID. Family so far. This compact SUV is expected to become one of the world's most popular electric vehicles and will be sold in all major markets.
Keep up to date with the latest news, arrivals and product releases on our social channels:
Facebook - @BreezeVolkswagen
Instagram - @breezevolkswagen
Latest News