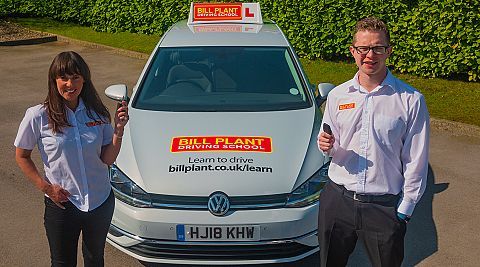 Driving success for Breeze Volkswagen!
17 July 2018
Breeze Volkswagen Poole has secured a deal with Bill Plant Motoring School with a fleet of more than 200 vehicles.
More than 50% of the driving school's franchises chose to switch to the Volkswagen brand.
Jake Plant, managing director of Bill Plant Driving School said: "We have in the region of 600 franchises across the country and obviously the car is the tool of their trade."
Jake revealed the Volkswagen Golf was overwhelmingly the most popular choice due to its "excellent residual value, safety features and comfort".
"As our headquarters is based in Rippon, West Yorkshire, Breeze Volkswagen is most certainly not on our doorstep but, having worked with the company before, we knew the standard of service and care we would receive, so the distance was not an issue."
Martin Pye, Corporate Sales Manager at Breeze Volkswagen, added: "We are very pleased to have forged this new partnership. Our dedicated fleet department is focused on understanding our customers' needs to help find them the best solution. I'm very proud of my team and that our reputation has preceded us."
To find out how our corporate department could assist your business, contact Breeze Volkswagen on 01202 713000.
Latest News