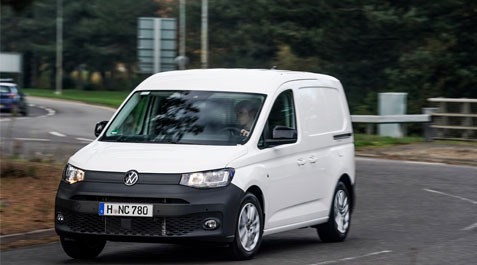 Double win for VWCV at Fleet News Awards 2021
Both the Caddy Cargo and Transporter 6.1 take awards home at Fleet News Awards 2021!
An impressive ceremony for Volkswagen Commercial Vehicles as the new Caddy Cargo is awarded Best Small Van, alongside the Transporter 6.1 winning Best Medium Van.
Praised for its car-like driving attributes, new efficient engines, enhanced safety features and reduced running costs, the new Caddy Cargo impressed judges as a "truly modern van". In a similarly tough category, the new Transporter 6.1 was named Best Medium Van praised for its safety technology and advanced driver assistance systems. It was praised by judges for being the "stand out van" in the category, and "universally loved by drivers".
The annual Fleet News Awards highlight the leading fleet companies, suppliers and manufacturers in the UK, and were presented to industry leaders at a summer garden party at Ascot Racecourse. The expert judging panel is made up of Fleet News' editors, all of whom boast decades of invaluable experience and industry knowledge used to decide the winners of each category.
"The Volkswagen Caddy Cargo is a truly modern van, offering efficiency, reliability and advanced technology to keep drivers safe. The Transporter 6.1 is another stand-out van, it's packed with driver assistance systems and provides customers with competitive running costs and a strong dealer network", said Stephen Briers, editor-in-chief of Fleet News.
Both the Volkswagen Caddy Cargo and Transporter 6.1 are available across Breeze Van Centres amongst several other models to choose from. If we can help you, give your local Van Centre a call on the numbers below:
Portsmouth Van Centre - 02392 652255
Poole Van Centre - 01202 713100
Southampton Van Centre - 02380 663333
Latest News