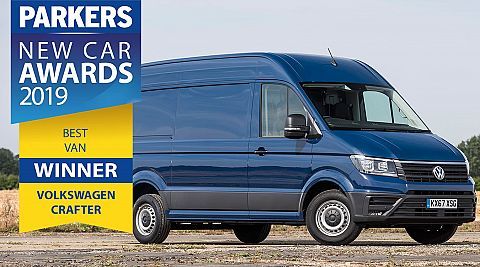 Crafter wins Best Van at the Parkers New Car Awards 2019
20 September 2018
Volkswagen Commercial Vehicles' Crafter has beaten off stiff competition from newer rivals to be awarded the title of Best Van in the Parkers New Car Awards 2019 for the second consecutive year.
The awards are in their second year, with categories designed to reflect the requirements of Britain's vehicle-buying public, and the winner is chosen based on the habits of the website's 2.9+ million users actively involved in the buying process.
The vehicles were tested rigorously by the Parkers.co.uk team, which judged them on a combination of cost per month, value, quality, excellence, and fitness for purpose. Following the judging the panel declared the 'exceptional' Volkswagen Crafter the winner, saying: "It's a class act and defeating tough competition from the newly revised Ford Transit Custom, a superb all-rounder, and the latest, incredibly hi-tech Mercedes-Benz Sprinter, is a highly impressive achievement that speaks volumes for the Crafter's depth of talents.
"The Volkswagen's supreme blend of usability, versatility, and comfort continues to shine through above all rivals, thanks not just to its sheer size but also its ease of driving and brilliantly thought-out cab."
Parkers editor Keith Adams summed up: "The Crafter is a brilliantly complete product, and as well as being a supremely-talented large van, it's also incredibly car-like to drive."
Director of Volkswagen Commercial Vehicles, Carl zu Dohna, said: "When we first saw the Crafter two years ago, we knew it was a class-leading product. The fact that it continues to beat off competition from new rivals and claim titles such as the prestigious Parkers Best Van award is a testament to its qualities. An increasing volume of new customers from large fleets to single-van operators are now driving and appreciating the Crafter, and we as a brand continue to strive to give them the best possible in-life experience through our dedicated network of Van Centres."
For more details on the Volkswagen Crafter click here or to arrange a test drive, contact your local Breeze Van Centre.
Poole: 01202 713100
Southampton: 02380 66 33 33
Latest News