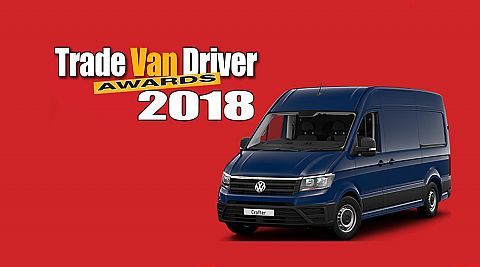 Crafter scooped top honours at the Commercial Vehicles show '18.
25 April 2018
Volkswagen Commercial Vehicles has scooped top honours once again at the Trade Van Driver awards by claiming Van of the Year and Best Large Panel Van for the Crafter. The Caddy was also named Best Small Van for owner-drivers and small fleet operators.
The Trade Van Driver Awards recognise the manufacturers, firms and people who, in the opinion of the judges, offer the very best to retail van buyers.
Commenting on the Crafter's performance, they said: 'For the second year running, this van has been hailed as a double winner. New from the nuts and bolts upwards, it's a quantum leap forward over the old Crafter in terms of technology, build quality and safety and is set to ensure Volkswagen's continuing success among trade van buyers.'
In explaining the Caddy's success, the judges added: 'With a new petrol alternative on offer and City Emergency Braking System as standard, the Caddy stands head and shoulders above the other offerings in the sector.'
The awards were presented to the Director of Volkswagen Commercial Vehicles, Carl zu Dohna at the Commercial Vehicle Show in Birmingham this week. He commented: 'Since before the Crafter was launched, it has picked up a string of prestigious awards. The fact that it continues to do so, now it has been in the market for over a year, is a sign of its true talents. The strength of our entire product range, as well as our network and raft of aftersales services, means van operators can trust us to work with them to fulfil their commercial vehicle requirements.'
For more information and to book your test drive, contact your local Breeze Commercial Vehicle Centre.
Poole 01202 713100
Southampton 02380 663333
Portsmouth 02392 179610
Latest News