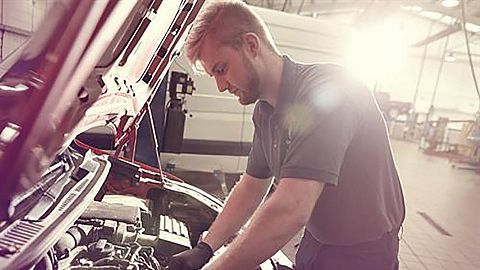 Could you be our next apprentice?
07 March 2018
It's National Apprenticeship Week and Volkswagen Commercial Vehicles has kicked off its search for the next crop of talented individuals to join its 2018/19 Advanced Apprenticeship Programme.
Open to candidates aged between 16 and 24-years-old, the scheme is designed to train the next generation of Technicians, Parts, and Service Advisers. Offering the choice of two years for Parts and Service Advisers and three years apprenticeship for Technicians.
The exciting and challenging opportunity will see selected trainees receive on-the-job training, gain knowledge and work experience whilst completing a series of formal qualifications in full-time employment.
Apprentices will be enrolled in the programme in July and in August 2018 will begin work in a chosen Van Centre. Their training will also combine study at Volkswagen Group's dedicated National Learning Centre in Milton Keynes ensuring they develop the knowledge and skills to keep up-to-date with the latest technological advances, as well as providing the very best levels of customer service.
Erica Belsom, People Development Manager at Volkswagen Commercial Vehicles, said: "Our Apprenticeship Programme continues to go from strength to strength, producing some fantastic engineers since its inception. We want young people to start thinking now about their plans for the coming year and what a great opportunity it could be for them to get involved with the apprenticeship scheme and what it has to offer."
On completing the course, apprentices will gain VCQ/VRQ Level 3, an IMI Technical Certificate, an Advanced Apprenticeship Completion Certificate, and Key and Core Skills Certificates relevant to their specialist area.
For more information on the Volkswagen Commercial Vehicles Apprenticeship Programme, please visit http://www.volkswagencv-apprenticeships.co.uk/
Latest News