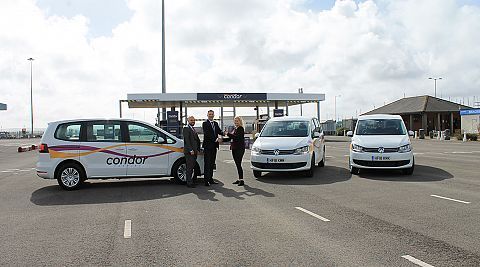 Condor Ferries add Volkswagen to their fleet.
01 May 2018
Condor Ferries has turned to Poole-based automotive company Breeze, to help boost its port-based fleet.
The ferry operator, which has been connecting the Channel Islands with the UK since 1964, has taken delivery of three Volkswagen Sharan people carriers from Breeze Volkswagen.
The vehicles will support the company's existing minibus service, transporting foot passengers from the terminal to the ferries as well as assisting with daily port activity.
Lizzie Mould, shore operations associate at Condor Ferries, said: "In addition to supporting our passengers, the vehicles will provide vital support for our port-based team. The vehicles will be split between our Jersey, Guernsey, and Poole ports.
"We have previously struggled to get a supplier to source Jersey and Guernsey registered vehicles however, the Breeze Volkswagen Corporate team effortlessly addressed our needs and provided an excellent service throughout."
Neil Carlton, a business development manager from Breeze Volkswagen, said: "The Volkswagen Sharan interior allows for six passengers and can be reconfigured to create more space for carrying goods. This versatility is ideal for Condor's needs.
"We are delighted to have established this partnership and look forward to strengthening the relationship over the coming years."
For further information or to find out how our corporate department could assist you or your business, contact Breeze Volkswagen on 01202 713000.
Latest News