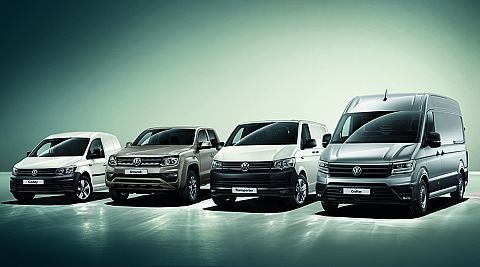 Choosing the right finance package for your Volkswagen Van, just got easier.
26 March 2018
Volkswagen Commercial Vehicles is adding functionality to its award-winning website with the launch of an interactive finance calculator, designed to make the process of choosing the right finance package easier than ever for customers.
The new finance calculator gives customers the ability to choose from a range of flexible finance options, including contract hire, finance lease, hire purchase, lease purchase, and Solutions personal contract purchase (PCP), to help them finance their next vehicle.
After selecting their vehicle customers can then see a detailed breakdown of the different finance routes available. Customers can also adjust variables such as terms and deposits, and the examples produced using the calculator can be emailed to themselves or saved for future reference.
Sarah Cox, Head of Marketing from Volkswagen Commercial Vehicles said: "The new finance calculator is another example of our commitment to supporting our customers every step of the way through our 'Working With You' promise. Navigating finance options can be tricky so we, along with our colleagues from Volkswagen Commercial Vehicle Financial Services, have designed this calculator to make it easier for customers to understand the possible routes they can take to pay for their van and work out which is the best option for them and their business."
The finance calculator is just one of many useful online tools available on the Volkswagen Commercial Vehicles website, which also offers the ability to book test drives or servicing, configure your perfect van, or find a Van Centre or Authorised Repairer.
Click here to find your finance package, or contact your local Breeze Volkswagen Commercial Vehicles retailer, for further information.
Contact our Volkswagen Van Centres in Poole 01202 713100 Southampton 02380 663333
Latest News