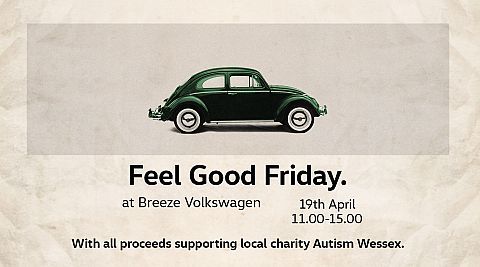 Charity classic Volkswagen car show
27 March 2019
We're looking for classic Volkswagen owners to take part in a charity Classic Car Show at our Tower Park showroom on Good Friday, April 19th, 11 am-3 pm – in aid of local charity Autism Wessex.
Alongside a forecourt display of classic Volkswagen cars, the 'Feel Good Friday' event will also offer competitions, face-painting, refreshments, and live music from Rockin' The Joint, courtesy of Mr. Kyps.
Mark Langford, Managing Director of Breeze said: "Everyone is welcome to join us on the day but, if you would like to display your vehicle, we do ask that you please book in advance. We're already taking bookings so get in touch with us at the showroom or check out our Facebook page for details."
Tickets to display a car on the day are just £5 with proceeds going to Autism Wessex, and each ticket purchase gives entry into a free prize draw to win Volkswagen goodies.
In support of the new Autism Wessex campaign, Accept My Autism, Breeze Volkswagen will also be holding a quiet hour on Sunday 7th April, 9-10 am.
Mark added: "The showroom is normally a busy, vibrant place which can be disorientating and overwhelming for people with ASD. With reduced lighting and no music, we're opening the doors for a relaxed hour for families to just pop in, enjoy sitting in the cars and play with I-pads to configure vehicles in a no-pressure environment."
Siún Cranny, CEO of Autism Wessex, said; "We are delighted that Breeze Volkswagen has chosen to support our Accept my Autism campaign with such a wonderful event. It's fantastic to see local businesses becoming autism-friendly, organising inclusive events such as The Quiet Hour, and encouraging other people to think differently about what it means to have autism. We would love as many people as possible to get involved. Everyone can do their bit to make our communities more open and accepting of autism. We really hope you'll join Breeze Volkswagen in supporting our empowering campaign aimed at giving local people with autism a voice. Follow us @autismwessex on Facebook and Twitter to learn more about our work and Accept my Autism."
For more information on Feel Good Friday or the Quiet Hour, please call Breeze on 01202 713000.
Latest News