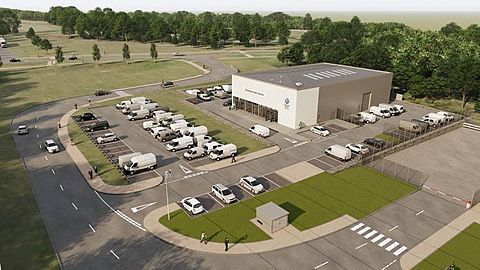 Business expansion brings jobs to Portsmouth.
28 March 2018
Up to 16 new jobs are set to be created in Portsmouth, as our Commercial Vehicles department unveils plans to expand and move to new premises. This major development is set to strengthen Breeze Motor Group's presence within the region.
Breeze Motor Group is relocating from its current Volkswagen Commercial Vehicle Service Centre in Hilsea to a new 1.3-acre dedicated site at Dunsbury Park, allowing the capacity to sell Volkswagen's Das Welt Auto used commercial vehicle range as well as continuing to provide a Service Centre.
Mark Langford, Managing Director at Breeze Motor Group, said: "This is a very exciting development for us. Portsmouth is vitally important to our business strategy as it geographically extends our offering on commercial vehicle expertise from Dorchester to Chichester. We have operated our current service centre in Portsmouth for five years, to great success, but business demand has required us to revisit our offering."
The new premises will provide 10 workshop ramps, including a VOSA accredited MOT testing area for class four and seven commercial vehicles and a forecourt display for over 60 used vehicles.
Mark added: "We will be more than doubling our existing workforce. We will initially recruit a sales manager followed by other individuals specialising in sales and services. In the future, we will be looking at growing our team further by supporting our current apprenticeship programme. Dunsbury Park is a hugely significant and unrivalled business area. It's ideally located and space enables us to create a purpose-built commercial vehicle centre enabling the business to enter new markets and provide a more comprehensive service for van operators."
Work on the new site is expected to begin in June 2018, with the Portsmouth used van centre planning to open for business in November 2018. The existing Volkswagen Portsmouth Van Service Centre, on Nevil Shute Road Hilsea, will remain operational throughout the development.
Latest News