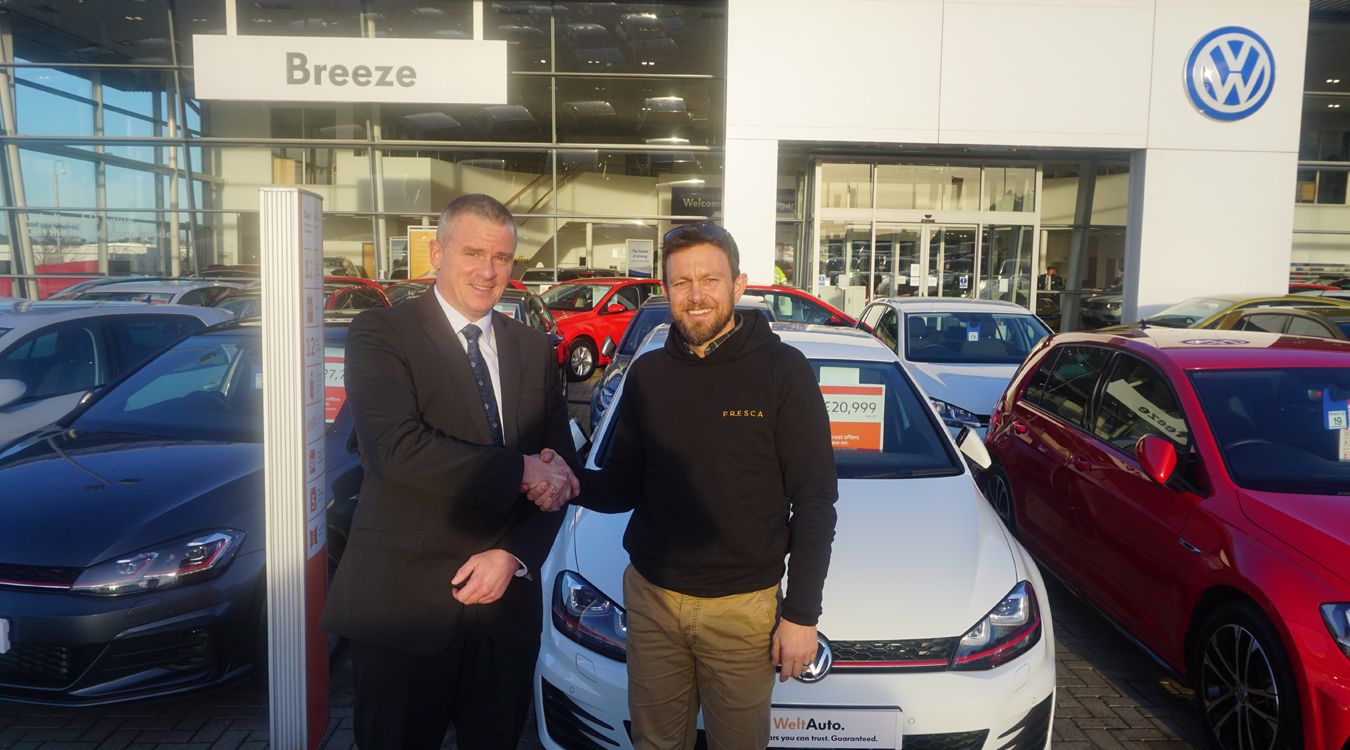 Breeze Volkswagen support charity cycling record attempt
14 May 2019
Poole-based car retailer Breeze Volkswagen will be providing support vehicles for the AB Sea Challenge – a 4219-mile cycle around mainland UK using A & B roads.
Craig Haslam, a former marine who was based in Poole for 10 years, plans to complete this massive journey in just 17 days – setting off from the Tyne Bridge in Newcastle on 13 June 2019.
The challenge will raise funds and awareness for two charities that have a personal connection for Craig; the Defence Medical Rehabilitation Centre Benevolent Fund (DMRC) and Surfers Against Sewage (SAS).
DMRC helps to support the rehabilitation of all members of the armed forces through the purchase of specialist goods and services for the patients.
Craig explained: "After 16 years in the Royal Marines and a further 10 in special forces, my military career was brought to an end when I was knocked off my bicycle by a car in February 2015. I was treated at DMRC and the support I received there helped me recover from life-changing brain injuries including vertigo, nausea, poor memory, a lack of concentration, one-dimensional vision, and round-the-clock headaches as well as physical injuries to my arms, shoulders, and knees."
Funds raised for SAS will help support the Plastic Free Communities initiative that is helping communities across the world come together to reduce single-use plastic.
Craig added; "As someone who has spent a lifetime outdoors, particularly in the water, my family and I have supported SAS for over 15 years. As the impact of plastic becomes more apparent, it is so important to do what we can to protect our seas."
After cycling 15 hours a day and burning up 10,000 calories, Craig will end each day in the saddle with a beach clean and will be joined by Breeze Volkswagen volunteers when he reaches Hamworthy Lake Pier.
Mark Langford, Managing Director of Breeze Volkswagen said: "We are delighted to be able to help Craig complete this impressive challenge and World Record attempt with the loan of support vehicles. Not only are the chosen charities so personal to Craig but they really resonate with the Poole community due to our stunning coastal location and the Royal Marines base just down the road at Hamworthy."
You can support Craig and his chosen charities during the AB Sea 2019 Cycle Challenge at https://uk.virginmoneygiving.com/ABSea2019
Latest News