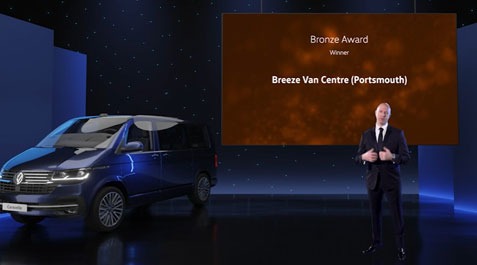 Breeze Van Centres hat trick at Volkswagen Commercial Vehicles' 2020 awards!
Breeze Van Centres receives 3 awards as Volkswagen Commercial Vehicles' recognises best Van Centres and Authorised Repairers!
Volkswagen Commercial Vehicles has recognised the achievements of the top performers in its UK network at its first virtual awards event - with Breeze Van Centres walking away with a hat trick!
The annual awards are given for performance and customer satisfaction across key areas. After an exceptional year, in which Van Centres worked to keep businesses and vital services moving, the opportunity to celebrate the successes of the Volkswagen brand's 63 Van Centres and 33 Authorised Repairers was more important than ever.
Six category awards were given, with Breeze taking home the Service & Parts and Authorised Repairer trophies for their Portsmouth and Southampton sites respectively. Breeze Van Centre Portsmouth then followed up with the Bronze Award for the Top Performing Van Centre, which recognises the top 3 overall highest performers, measured against a spectrum of criteria.
Overall Top Performer Awards for 2020:
Bronze Award: Breeze Van Centre, Portsmouth
Category Awards:
Service and parts: Breeze Van Centre, Portsmouth
Authorised Repairer: Breeze Van Centre, Southampton
Mark Langford, Managing Director and John Corderoy, Owner of Breeze Motor Group, were also nominated for the brand's prestigious Gold Pin; an accolade given to staff from across the network who have demonstrated exceptional and often long service to the brand.
Commenting on the awards, Brand Director of Breeze Van Centres, Michael Gunner, said: "I'm extremely proud of our teams. There has been a huge amount of change over the last two years - from opening a new site in Portsmouth, the introduction of new team members and different working processes, to the challenges of 2020 - but the team's dedication and commitment throughout has been amazing and I am delighted it has been recognised by Volkswagen Commercial Vehicles with these three awards."
Latest News