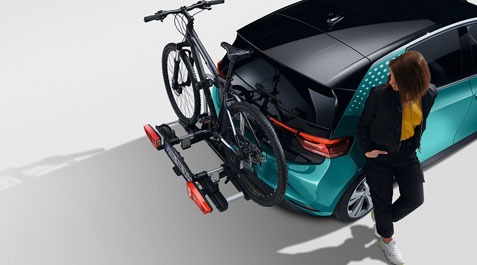 Bespoke accessories for ID.3!
The ID.3 has had its very own range of accessories launched to boost the model's practicality, usability and style
Accessories are now available from Breeze Volkswagen to order over the phone or through our website for contactless collection or delivery.
The first lot of these bespoke accessories includes an assortment of protection packs with floor mats, a loadliner and load sill protector! The packs are bespoke to the City, Life, Business and Tech trim levels as well as Family, Tour and Max with a variable boot floor. Customers have the choice of carpet or rubber floor mats - £204 (fitted inc. VAT) for carpet and £188 (fitted inc. VAT) for rubber mats.
Exterior accessories are also available for the ID.3 with a set of high-quality door mirror caps compatible with the ID.3 1st Edition, City, Life, Business and Family. These mirror caps are available in both High-gloss Black and Carbon Look finishes. The Style Pack bundle is also available, with an animated LED mirror turn signal and dark-tinted lens.
The ID.3 is able to carry three bicycles at the rear with help of the Compact III Bicycle Carrier accessory, attaching to the car's transport hitch and is very simple to operate. This bicycle carrier is compatible with all ID.3 models (excluding the 77kWh Pro S battery).
If you're interested in some of these ID.3 bespoke accessories for your vehicle, contact our Parts Department today on 01202 713000 option 3.
Latest News