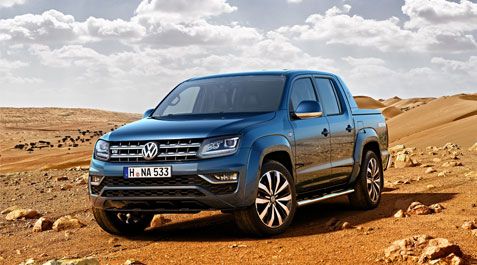 Amarok picks up the 'Pick-Up of the Year' award!
29 July 2019
The Amarok continues in its winning streak by picking up the Pick-Up of the Year title in the Company Van Today (CVT) Awards 2019!
The judging panel, headed by CVT Editor Tom Webster, said: "The Volkswagen Amarok has proven itself to be a desirable, high-quality pick-up capable of acting as a working tool and leisure companion in one, which is perfect for SME fleet operators."
The Company Van Today Awards reward the very best vehicles in the industry... those light commercials that offer fleets a combination of low running costs, great efficiency, clever features, and high quality to support businesses in doing their jobs.
As well as this recognition, the Transporter and Crafter were also highly commended in the Medium and Large van categories respectively.
The Volkswagen Transporter has been highlighted as the one ahead of a strong set of rivals, due to its versatility, excellent engines, and plush cabin. With its wider range of body styles and excellent DSG Automatic gearbox, this is continuing to be a genuinely desirable van.
Another of the Volkswagen Commercial Vehicle range recognised for an award was the Volkswagen Crafter, known for its pleasant drive, a wide range of body styles, and high-quality interior. CVT was also sure to recognise the class-leading payload of this van, being in many ways the best at what it does.
Contact your local Breeze Volkswagen Van Centre today for more information on our Commerical Vehicle range, or to book a test drive!
Latest News