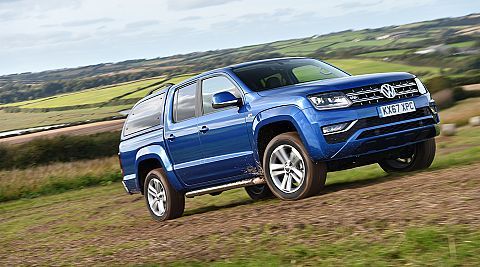 Amarok named Professional Pick-up and 4x4 magazine's Lifestyle Pickup of the Year
16 March 2018
The multi-talented Volkswagen Amarok has added to its impressive award collection by driving off with Professional pick-up and 4x4 magazine's Lifestyle Pickup of the Year 2018 title. The reigning International Pickup of the Year comfortably eclipsed its rivals to take top honours.
The Professional pick-up and 4x4 awards are judged by professional users rather than journalists or industry experts, ensuring the feedback and opinion from the judging panel is even more relevant to potential customers.
Explaining the criteria for the Lifestyle Pickup of the Year category, Liam Campbell, Editor of Professional pick-up and 4x4 magazine said: "We wanted to find the pickup that best lends itself to the lifestyle market. Our judging panel went in search of comfort and convenience features, along with the great ride and handling and lots of legroom."
This award is the latest in a series of high-profile industry accolades to be awarded to Volkswagen Commercial Vehicles in 2018. The brand came home with no fewer than five trophies from the recent Business Van Awards, with the Amarok named as the best pickup and the Caddy named overall Van of the Year.
"The judges cited the excellent driving manners, spacious interior and high levels of specification as the main reasons for the Amarok's triumph in the 'Lifestyle' category," added Campbell. "Both on and off the road, the Amarok excelled thanks to the powerful 3.0-litre V6 and the faultless permanent 4WD system."
Commenting on Amarok's latest award, Alice Halliwell, Amarok Product Manager said: "This is an important award for us because it is judged by professional users – the kind of people who depend on their vehicle, day-in-day-out. The Amarok has proved itself to be a fantastic all-rounder, and this award highlights the fact that it can combine workplace chores with comfort and convenience."
Launched in late 2016, the new Amarok marked a step-change in the model's history. Along with a refreshed external look, it also gained a new 3.0-litre V6 TDI engine, an all-new interior and the latest in in-car infotainment systems, safety and technology. The Amarok range has grown steadily since its introduction and now boasts a wider range of drivetrains. In addition to the range-topping 224 PS version with an eight-speed automatic gearbox, customers can also choose a 204 PS or new 163 PS version, along with a manual gearbox.
Prices for the new Amarok range start from £25,420 (total RRP inc. OTR excl. VAT).
For more information on Volkswagen Commercial Vehicles' award-winning range of products and services, contact your local Breeze Van Centre:
Poole: 01202 713100
Southampton: 02380 663333
Latest News